2022 MAV Annual Conference & Dinner
Event start date:
Event start time:
Event end time:
Event end date: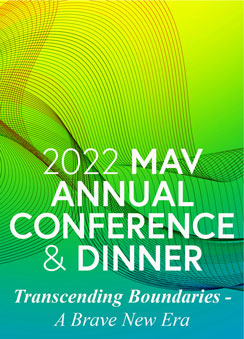 Registrations are now open for the 2022 Annual Conference and Dinner, which will explore the theme 'Transcending Boundaries – A Bold New Era'.
This year's theme reflects the significant disruption faced by councils as they deal with a range of issues including population change, economic recovery, budget constraints, financial sustainability, climate action, circular economy, and rising demands and expectation on services.
The COVID-19 pandemic has served to catalyse and accelerate changes to council operations and inspired new ways of thinking about the way services are delivered.
Although the challenges are significant, the opportunity to accelerate positive change are now greater than ever before. This conference explores the role of leaders in embracing change and disruption, turning challenges into opportunities, and moving forward positively into a new reality.
We have an impressive array of speaker and thought leaders on the program including:
The Gala Dinner & Councillor Service Awards
The Gala Dinner is a highlight of this event and will also include acknowledgement and celebration of our Councillor Service Award recipients. Mayors and councillors due to receive their 2021 awards at this year's rescheduled Councillor Leadership Conference, will now be receiving their awards at the Gala Dinner.
Registrations are now also open for 2022 Nominations and will close Friday 16 September. Partners of award recipients can also purchase tickets to attend the dinner. Please click here for more information about the Councillor Service Awards and to complete the nomination form.
This conference is renowned as a Victorian local government premier event and networking opportunity for Mayors, Councillors, CEO's, Executives and Senior Officers. Don't miss out and book your tickets now!