Walking and Bike Riding Resource Hub
Walking and bike riding are important parts of the transport system and are growing in importance and popularity. There are also significant mental and physical health benefits gained from walking and bike riding.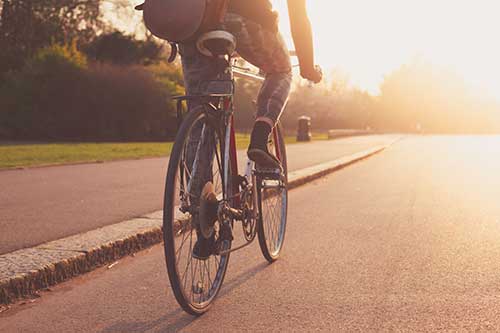 Recent surveys of Victorian councils found that more than 80% of councils have a walking and/or cycling plan, and that more than 90% of councils plan to deliver walking and cycling improvements each year.
The MAV has partnered with VicHealth to address barriers and encourage behavioural change to get people moving in a safe and healthy way. Through our research, councils have told us they need more support particularly when walking and bike riding demands are increasing. That's why we've developed this hub to give council officers specific, practical information to help implement walking and bike riding projects. This hub is aimed at improving the capability of local government to plan, design, deliver, activate and evaluate walking and bike riding programs and projects.
Data, case studies and evidence have been pulled together across metropolitan and regional Victoria, Australia and internationally to inform councils' decision-making for walking and bike riding projects.
The material has been collated specifically for council officers working in infrastructure, engineering, health promotion, community development and transport to guide the design and delivery of active transport infrastructure and behavioural interventions.
Details of our current Transport Advocacy Strategy 2022 include activity to support more investment in walking and bike riding.
If you have any suggestions or would like to provide an example, please email Geoff Oulton on goulton@mav.asn.au or call 0419 766 999.
Current issues and opportunities of interest
Upcoming Webinars
Details about our future webinars will be published here when available.
Smart Urban Futures Conference 2023
The recent Smart Urban Futures Conference included a quick overview of three recent webinars on regional councils, advocacy and engaging children and young people. You can watch the short video or review the slides (PDF - 5.6MB).
The original webinars are further down the page.
Consensus Statement
MAV was pleased to be a part of a group of organisations that developed the Consensus Statement (PDF - 561KB) on walking and bike riding.
Victorian government emission reduction pledge for transport
The Victorian government action on climate change includes emission reduction pledges for seven key areas including transport. The transport sector pledge (PDF - 1.19MB) includes the important target of increasing active transport mode share from the current 18% to 25% by 2030.
Past Webinars
Our webinars included speakers and case studies from across local government in Victoria and encourage questions and discussion.
Webinar recordings and presentations
2022
2021
2020
Feedback from councils
The Municipal Association of Victoria (MAV) and VicHealth have been working together since July 2020 to support Victorian councils to deliver projects that encourage walking and bike riding. A survey was conducted in August 2020, and mid-project in February 2021 to evaluate its success.
A further survey to understand what issues and priorities had changed was completed in mid-2022.
Mid-2022 Survey Results
In a Mid-2022 survey of Victorian councils (PDF - 222KB), key findings included:
Around two thirds of respondents had noticed an increase in bike riding and around three quarters an increase in walking
More than 90% of respondents were planning improvements in both walking and bike riding facilities
Almost half were also planning speed limit changes and behavior change campaigns (both up from about 30% in 2020)
Limited council funding was reported by 75% of respondents, with two thirds highlighting construction cost increases as a barrier. Community opposition was also reported as a barrier by more than half of respondents, up from around a third of councils in 2020
Having a strategy, sufficient staffing and funding are keys to delivering more council projects
Big Build projects provided mixed walking and riding outcomes and are an opportunity for improvement
Councils want leadership, delivery and funding from the State Government and continued advocacy and support from MAV.
2021 Survey Results
The mid-project evaluation survey highlighted a number of exciting outcomes. You can read the Walking and Bike Riding Webinars Survey Report (PDF - 259KB) and the Walking and Bike Riding Project Survey Report (PDF - 311KB) for the full results.
Key findings from responding councils include:
COVID-19 has been a catalyst to improve local infrastructure and work in collaborative partnerships
Two-thirds of respondents utilised the MAV online Walking and Bike Riding Resource Hub
Developing and sharing local case studies have helped councils
Stronger relationships with the Department of Transport are welcomed, and remain crucial
Funding and external approval issues are key barriers for councils.
MAV Walking and Bike Riding

Published November 2022

The Municipal Association of Victoria (MAV) and VicHealth have been working together since July 2020 to support Victorian councils to deliver projects that encourage walking and bike riding. This infographic highlights the opportunities and challenges for councils identified in a recent survey.

More people walking & riding

73% more walking*
66% more bike riding*
67% increase identified in parks, reserves and/or dedicated paths.

*percentage of councils who identified increasing demand for this type of transport.

Council intentions NEXT 12 months

97% Improved bike riding infrastructure
93% Improved walking Infrastructure
36% Plan to deliver more projects or trials than 12 months ago.

What has helped?

Changed travel patterns and sentiments with increased walking and riding activity have continued after COVID-19 restrictions ended.

Online webinars conducted by the MAV have helped council staff to advocate for and deliver projects
Funding and development of local strategies are important
Stronger support from the Department of Transport is welcomed, and remains crucial.

Barriers

Lack of funding - 72% of councils identify funding as a critical barrier
Cost pressures - 69% identify inflation in construction sector as an issue.

Next steps for MAV

Continue to collaborate across government and strengthen key partnerships
Advocate for increased funding and simpler grants
Continue campaigning for local priorities.

Read the full survey reports online at the MAV Walking and Bike Riding Hub.
2020 Survey Results
MAV conducted an initial survey with councils in 2020 to understand the activity occurring and barriers encountered when developing walking and bike riding projects. You can read the MAV survey summary (PDF - 552KB) and MAV survey results (PDF - 814KB) for the full results.
The survey received an 85% response rate, and the main barrier was funding. Some of the other key findings include:
More than 80% of Metro Councils said approval processes was a barrier to delivering walking and cycling improvements
Around 50% of councils reported they are planning to deliver more walking and cycling projects in the next six months
Around 50% of metro councils are planning to undertake behaviour change campaigns yet only 10% are in regional Victoria.
This feedback from local councils has strengthened MAV's advocacy to state government and its support to councils. MAV is now working with Department of Transport on improving project approvals processes.
Walking and bike riding stakeholders
Local government works with many state government and non-government organisations to deliver walking and bike riding outcomes. Here are two snapshots of key stakeholders and programs relating to walking and bike riding. These are not exhaustive lists but aim to show the range of organisations that may influence projects; either through policies, approvals, funding, advice or other support.
Improving metropolitan walking and bike riding project approvals – DoT contacts
MAV's survey of councils identified approvals as a barrier in metropolitan Melbourne. Following discussions with MAV, DoT has agreed that the 3 metropolitan regional directors are your best escalation point if you have any approvals issues regarding walking and bike riding-related projects. Their contact details are:
Victorian council examples
Many councils across Victoria are implementing projects to encourage more walking and bike riding. These MAV case studies highlight some of this great work. MAV will continue to add examples here. You may want to share your council's great work by submitting your own case study using the template.
Here are some more examples, from news and councils, that include designs and infrastructure to support active transport;
Victorian strategies and guidance
Cycling and Walking Australia and New Zealand
Cycling and Walking Australia and New Zealand (CWANZ) is the Australasian lead reference group for walking and bike riding on transport and recreation networks. Members include senior and executive level leaders from all Australian state and territory transport agencies, New Zealand Transport Agency, local government representatives and leading advocacy groups and peak bodies for walking, cycling, health and mobility.
CWANZ provides a collaborative forum across Australia and New Zealand to share knowledge and innovation on strategic initiatives and projects that enhance outcomes for walking and cycling. Their resources include a range of fact sheet:
National and international strategies and guidance
Resources
How Can We Get More People Using Active Transport? Active Travel Research Priorities
VicHealth and Monash University collaborated to identify active transport research gaps and priorities.
Victorian LGA Bike Riding Typologies - Monash University
In late 2020, VicHealth and Monash University conducted a study of over 4000 people across 37 local government areas (LGA) in Victoria to understand how many people were interested in riding a bike. Based on survey results, respondents were categorised according to their comfort in various environments.