2023 Annual Report
The 2022-23 year was packed with challenges and opportunities. The MAV Rules were endorsed, we made a move to a new office, said goodbye to CEO Kerry Thompson, and welcomed a brand-new MAV Board.
Our members stayed up-to-date with the latest advocacy issues through briefings we provided.
We're proud to have strengthened our relationships with the state and federal governments, and are now taking a partnership-based approach to achieve the best outcomes. We'd love to thank our mayors, councillors, CEOs, and council staff for all their help navigating the political landscape.
Now, it's time to look ahead to the success of the MAV with our freshly appointed CEO, Kelly Grigsby, at the helm.
2022-23 Annual Report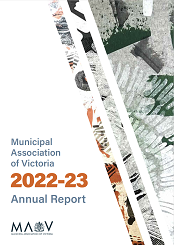 ---
Previous Annual Reports