Christmas at the MAV
Publish date:
It's beginning to look a lot like Christmas, and the MAV is sharing the spirit of the season.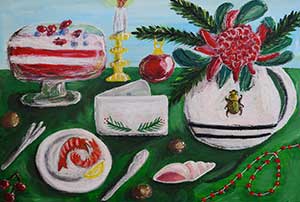 The MAV office will be closed from 2pm on Friday 24 December and re-open on 4 January 2022. We'd like to thank all our members for their participation in our activities throughout 2021, and we look forward to that continuing in 2022.
We would like to thank our staff member Olivia Boddeus who painted the Christmas artwork you can see displayed on the banner above and to the right. For us, it captures the essence of summer Christmas celebrations in Australia.
Olivia has been the Governance Administration Officer at the MAV for almost four years, her main roles are to organise the MAV Board and State Council meetings. When she's not working, Olivia enjoys painting, singing, and designing and has even taught MAV Staff DIY crafts via creative workshops.